About me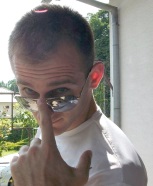 I'm an engineer at heart and a jack of all trades kind of guy.
For those who care about titles, I hold a masters degree in computing from FER (and a black belt in karate, but that's another story…).
During the last years, I worked in a betting software industry where I made use of my knowledge in areas ranging from full-stack (web & desktop) development to game development through Linux and database administration and use of various languages (C#, PHP, JavaScript to name just a few).
Currently, I'm a senior software engineer at TelTech, where we make innovative communications apps, and I <3 it.
Lately, I'm very passionate about Ionic framework and am currently in the top 3 answerers on StackOverflow in Ionic framework. I wrote a book about Ionic framework which you can get for free on Leanpub: Ionic framework – step by step from idea through prototyping to the app stores.
Other technical writing:
You can find out more about my other projects at http://www.nikola-breznjak.com/#portfolio.
In case you want to contact me, you can use Twitter or my contact form.